Hard Disk Drive Data Recovery

Hard Disk Drives are what are termed mechanical storage devices where they store and read the data using a head assembly which floats above the media and writes or reads to concentric circles on the disk as they spin around. The engineering developments have evolved over the years with massively increased capacities but they are still somewhat vulnerable due to their delicate nature and can easily get damaged.
At Data Recovery Ireland we have been developing tools and techniques for the evolving technology of hard disk drives, for many years and have been successfully recovering lost data from these devices over this time.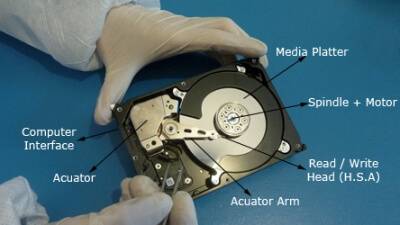 We can recover data from any drive size including 3.5″, 2.5″ or 1.8″ all of which are used in Desktop Computers, Servers, Laptops, Digital Storage Devices as well as micro-drives found in compact notebooks and cameras.
The hard disk drive data recovery process follows a very well defined series of steps that analyses to root cause the faulty hard disk drive and then proposes the most suitable corrective action needed to recover the data. This is all done while keeping our customers fully updated through all stages of the data recovery process. Our engineers use the safest and most advanced recovery tools available to ensure your data is recovered quickly and cost effectively.
Classification & Recovery Types
We can recover from the simplest (easy) type of data recovery to the most technically challenging "advanced" and can always do so cost effectively and quickly. We can recover lost data from drives damaged by:
Accidental deletions
OS damage or virus damaged disks
Dropped or mechanically damaged disks
Liquid saturated disks
Fire damaged disks
Electrically overstressed drives
Ticking or clicking damage
Drive not recognised problems
Seized motor
Damaged head
Damaged service areas
Damaged media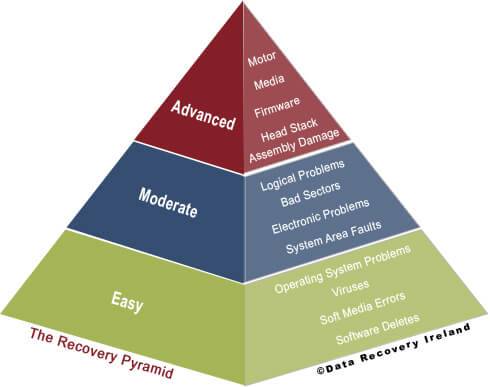 In each case the recovery methodology that is adopted to recover the lost data will be simplest quickest and most cost effective way so that the customer only pays according to the damage type irrespective of the data that's on the drive.
We successfully recover lost data caused by the whole range of issues associated with logical problems, electrical damage or mechanical problems including Head Stack Assembly damage and Motor control problems. We follow our standardised recovery process which is designed to maximise the likelihood of successfully recovering lost critical data.
The data recovery tools, processes and methodology that we strictly adopt guarantees the highest yields, fastest turn around time and of course the most cost effective solution. For further hard drive recovery assistance please call us.